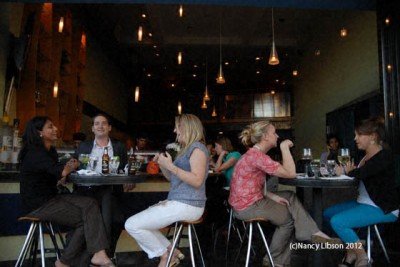 Dupont Circle 3, 2012, Photograph by Nancy Libson


FotoPartner Documentary Photography Workshops with Nancy Libson offers a unique 8-hour immersion workshop opportunity to explore Dupont Circle with your camera this Sunday, November 18.
We asked Nancy Libson about her workshops, how she got started, what she's learned along the way about photographers and photography.
"The first stop is the wonderful and long-familiar tradition – Sunday farmer's market – filled with seasonal fresh vegetables, Thanksgiving pies, colors of autumn, and crowds to fill lots of photos. We'll explore the main streets and side streets of the neighborhood looking to capture "your" essence of the place! Before and after our photo shoot we'll be indoors – learning tips and looking at slides before we head out – and, after we explore Dupont Circle, we'll head back indoors to critique your work!
I am a documentary photographer and I've been teaching documentary photography workshops for about fifteen years. I love to teach others how to capture the essence of a place. My first workshop as teacher was on Tilghman Island when I was a newcomer to D.C.. I originally went out to do a photo story on the Tilghman Island Bridge that was being replaced and found the area to be quite special. After that initial visit I decided to hold classes on the island and over time I introduced well over 100 photographers to the area. Eventually, many Tilghman Islanders became my friends – the Island almost a second home. And the story repeats with other areas throughout the US, where I hold classes. The idea of exploration with my camera, the artistry involved, reaching out to others in a variety of meaningful ways, making a difference, and making connections is what moves me about photographing and teaching about a "place." I also think that many others could feel this way.
In my opinion, although documentary photography has changed over time, this approach to photography is still around because there always will be a curiosity about other people and perhaps a desire to help be a part of change through images, whether you're behind the camera or trying to understand the world a bit better by viewing the images of others.
Most of my classes are documentary in nature and they vary from daylong to a week. The location varies from DC to other unique and interesting places throughout the U.S." – Nancy Libson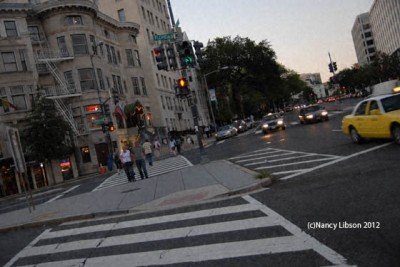 Dupont Circle 1, 2012, Photograph by Nancy Libson


Documenting Dupont Circle with a Camera
Sunday, November 18
9 a.m. to 5 p.m.
$105 per person
The class meets at 2737 Devonshire Place, NW, in the party room at Woodley Park Towers, located at the corner of Devonshire Place and Connecticut Avenue, NW.
To register, visit www.nancylibson.com or email Nancy directly at .
You may also register at the time of class with check or cash, although please RSVP to make sure there's still room in the class.