Life is funny and people do interesting things just going about their daily business. Mix in a few photographers who watch and snap, and the genre of street photography was born.
This isn't a new concept - a small handful of photographers, including Eugène Atget and Henri Cartier-Bresson, captured moments on the streets of Paris over a hundred years ago, pioneering the style. This type of "life reportage" involved individualized techniques, personal preference, and an eye for the decisive moment to hit the shutter. Viewed out of context, images like these can invoke a lot of questions, be confusing, uncomfortable, or hilarious, or simply offer an unfiltered look at humanity. An example is Cartier-Bresson's iconic Rue Mouffetard, Paris of a small boy carrying two giant bottles of wine on a Paris street, one of my personal favs.
Locally, street photography has been categorized by a group of photographers, each with an individualized approach and style. Recently, a few banded together to create STRATA Collective with the aim to strengthen their work and increase exposure to the artform. This collective includes Aziz Yazdani, whose split-view look at two generations was a winner in the 2010 FotoWeekDC festival, so I asked him about STRATA Collective and their exhibit up now.

H St, DC, 2012, Photograph by AzizYazdani


>> How did STRATA Collective get its start?
Aziz: The idea of creating a street photography collective has actually been floating around in our minds for a couple of years. Over this past summer I finally decided to make something happen and shot an email out to a group of DC based street photographers whose work I deeply admired: Bill Bramble, Matt Dunn, Steve Goldenberg, Mike Hicks, and Chris Suspect. The creation of the group was essentially two fold: 1) to strengthen our photographic skill set by offering valuable and intellectual critique and 2) to expose the community to Street Photography, a genre of photography that is not represented or respected enough in my opinion.
>> Where can we see STRATA Collective's work?
Aziz: Since our creation just a few months ago we've made quite a bit of progress. We have been fortunate enough to be part of two exhibitions. We are currently exhibiting 22 prints at Submerge, located at 7 th and H St. NE. through November 18, 2012. We will also be having a one night exhibition/party in collaboration with another DC-based photography collective, FotoPartner InstantDC [whose involvement with FotoWeek spans several years] on November 15th. We also just found out that three of our members were chosen to be exhibited at the Miami Street Photography Festival during the second week in December. Out of 78 prints that will be exhibited, 11 are from STRATA. Not too shabby.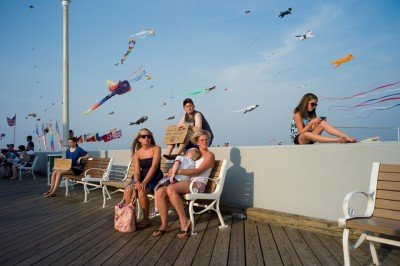 Ocean City, MD, 2012, Photograph by Mike Hicks


>> What can we expect from STRATA in the future?
Aziz: Things are looking pretty good for us so far. I can't express how exited I am for the future of our group and how lucky I am to be surrounded by such amazing photographers. We constantly strive to improve our images and push (>cough< encourage) each other to step up our game. For the time being we are going to stick to the six of us and work out all of the kinks of what it takes to run a successful Collective. Hopefully by next summer we will be looking to expand as a group.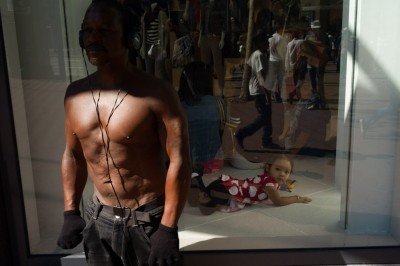 San Francisco, CA, 2012, Photograph by Chris Suspect


The work of STRATA Collective photographers may be seen at Instant DC's 3rd Annual 2012 Soul of the City Photography Exhibition exhibit at the Josephine Butler Parks Center tonight, Thursday, November 14, from 6 to 10 p.m. Tickets are $10.